Greyhound Events
To facilitate people interested in possibly owning a Greyhound, we conduct "Meet and Greet" Sessions every month. This gives potential owners the opportunity to meet a number of Greyhounds in one location, and to speak with Greyhound owners who bring their own dogs to the event. Normally we conduct two events each month.
Clermont Meet and Greet
NEW TIME!!!! Noon – 3 PM
(This event repeats every month on the first Saturday, unless a holiday intervenes.)
Irish Trails Feed Store
102 S HIGHWAY 27
Clermont, FL 34711
352-243-0924 (store phone for directions only)
Notes: Irish Trails is across the street, just south of the Citrus Tower on Highway 27. We will be trimming Greyhound nails, and you can pick up whatever supplies you might need.
St. Cloud Meet and Greet
10:00 am – 1:00 pm
(This event repeats every month on the third Saturday, unless a holiday intervenes.)
Pet Supermarket
2924 13th St.
St. Cloud, FL 34769
407-498-0929 (store phone for directions only)
Notes: Pet Supermarket is one mile east of Walmart. We will be trimming Greyhound nails, and you can pick up whatever supplies you might need.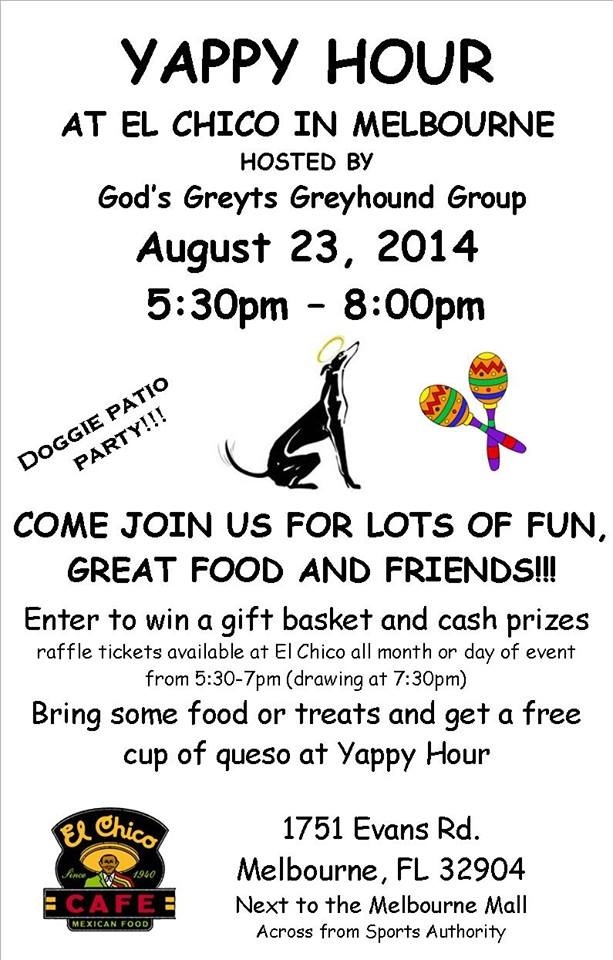 God's Greyts Greyhound Community  Picnic
Sunday, January 25th, 2015
2-5 pm
7259 Hiawassee Oak Dr. Orlando FL 32818
All central Florida Greyhounds and their humans are invited to attend. Property is fenced and the greys can run around loose  to their heart's content, while we humans enjoy a pot-luck picnic, games, Chinese raffle and shopping for greyhound supplies. We'll be doing toe-nail trimming for $5 per dog.
For sale, we'll have Greyhound coats, collars, leashes, dog toys, muzzles, car decals, T-shirts, jellies and preserves, Frontline Plus, Advantix and more. Bring cash or your checkbook and stock up on these essential items. Your purchase will benefit the homeless hounds of God's Greyts, a FL non-profit corporation.
Only Greyhounds are allowed, (no other breed of dog), and your Greyhound must wear a muzzle, so be sure to bring one for each hound. If you don't have a muzzle, you may purchase one at the event or possibly borrow an old one, if any are left. Any unmuzzled greys must be kept on leash. Also, you might want to bring a towel or two, so you can hose your dog off before going home. We do have a couple of small lakes on our property and the dogs do sometimes go in for a dip
This event is Pot-Luck. If you want to dine with us, please bring a covered dish or dessert to share and a serving spoon, if your dish requires one. Labeling your serving pieces with your name would be a good idea. There is a very small propane grill available. God's Greyts will be providing the beverages and paper/plastic ware. Also, bring lawn chairs and/or blankets to sit on while we chat and eat or watch the dogs play. Be sure to bring your sunscreen, sunglasses and your camera for some greyt action photo opportunities!
Please park in the street, not in the driveway and be extremely careful coming through the gate, making sure it is securely latched, so you don't let any dogs out. Come wearing something you don't mind getting "doggy" and wear sneakers or other sturdy shoes, not your most beautiful high heeled sandals! You may have to park quite far from our driveway, so be prepared to walk. If needed you can unload in the cul de sac near our driveway, then park down the street.
Again this year, we are asking anyone who is able to bring a bag of Purina Dog Chow (in the green bag…any size!) as a donation and leave it in front of the garage on your way in. God's Greyts foster dogs will greytly appreciate this!!! Cash donations also greytfully accepted at the picnic or on our home page here on this website.
Looking forward to seeing you!!